Martine ARGELLIES has been a harpsichord maker since 1981. An enthralling, wide-ranging trade encompassing woodwork, acoustics, history and decoration, it is to teach the wood and iron how to sing and to do so, we must learn from the past how these sounds were born. Adding to the pure electrolytic iron of our century all the impurities spewed out by the blast furnaces we obtain the soft iron of the harpsichord strings. We train the ear and the scalpel towards the plectra ready to pluck the strings.
Many musicians, from the beginner to the professional, have already chosen these instruments. Three of them equip the Bastille opera in Paris. (200 harpsichords completed)
The instruments produced by our workshop are made from the plans of various harpsichords and virginals from 17th and 18th century. The cases are out of solid timber in the same wood as the instruments, the soundboards (which provide the resonance of the instrument) are in selected spruce, the jacks in pearwood with boxwood strips.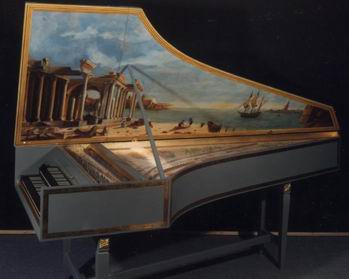 The strings also have metallurgical, mechanical and acoustic characteristics very close to the originals.
Their characteristics are described in the links "click here" in table below.
All these instruments can be ordered with the soundboard decorated with painted flowers, the lid painted with a copy of one of the masters of the XVII or XVIII century, and a period stand. The harmonization can also be adapted to your preferences.
Lastly, all the instruments are transposing instruments. The reference A can be tuned at 415 Hertz (virginal pitch) or at 440 Hertz (international modern pitch).